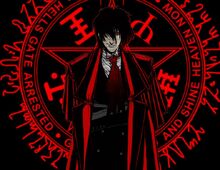 Hello everyone!
I'm Shadowbeast109, but i'm often addressed as either Red, Shadow, Beast or Alucard(I wonder why...). I've lingered around this wiki often, usually sitting in the chat in the chance that someone popped in. As of recently though, i've been offering my editing services and helping out when needed or asked.
I've been following Berserk for a year or so when it was recommended to me, but i've read every chapter to date, and have watched every episode of both animated series (Plus the movies). As such, I know a fair bit about Berserk and I usually like to think about possible endings for the series.
Outside of this wiki, i'm a Discussions Moderator for the Dark Souls Wiki and 1 of 2 admins on the Salt and Sanctuary wiki. (Help us, please)
I read a lot of manga and watch a lot of anime in my spare time, along with being an avid gamer, so conversing about either topic is usually something I do with other users.
That's my bio, you're free to stop reading now. What are you doing? I said you're free to go. There's nothing of value being written here. PLEASE, JUST GO! FREE YOURSELF! YOU CAN STOP READING! What are you waiting for?!
Ah screw it, I see you're still reading, so I suppose you deserve something....
*Ah! Here:
Enjoy!
*Be sure to put your grasses on before listening :p .
Community content is available under
CC-BY-SA
unless otherwise noted.