Line 1:
Line 1:
 

<!-- When adding new updates, please remove older entries so there is a maximum of two entries per tab at a given time; this is to avoid overly lengthy tab content in the side column of the main page. -->

 

<!-- When adding new updates, please remove older entries so there is a maximum of two entries per tab at a given time; this is to avoid overly lengthy tab content in the side column of the main page. -->

 
+
 

<div class="MainPageTabber">

 

<div class="MainPageTabber">

 

<tabber>

 

<tabber>

Line 7:
Line 8:
 

Episode 350 "'''[[Episode 350 (Manga)|Memory Fragments]]'''" released!

 

Episode 350 "'''[[Episode 350 (Manga)|Memory Fragments]]'''" released!

 
 
−

Next episode: Late June

+

Next episode:

 

|-|Anime =

 

|-|Anime =

−

;9 June 2017

+

; June 2017

−

[[File:Episode 22 (2016).png|frameless|center]]

+

[[File:Episode (2016).png|frameless|center]]

−

Episode 22 "'''[[Episode 22 (2016 Anime)|A Journey Begins in Flames]]'''" released!

+

Episode "'''[[Episode (2016 Anime)| ]]'''" released!

 
 
 
+

Next episode: TBA 2018

−

Next episode: June 16, 2017 ("[[Episode 23 (2016 Anime)|Proclaimed Omens]]")

 
 

|-|Other =

 

|-|Other =

 

[[File:Volume 39.png|frameless|center]]

 

[[File:Volume 39.png|frameless|center]]
---
Revision as of 05:50, 23 June 2017
23 June 2017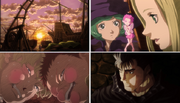 Episode 24 "City of Humans" released!
Next episode: TBA 2018
Volume 39 of Berserk will be released on June 23.
24 April 2017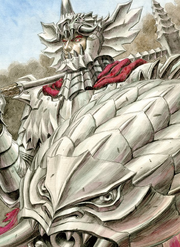 Berserk
's first novelization
Berserk: The Flame Dragon Knight
has been revealed and is slated to release on June 23. It will cover the background of the legendary
apostle
Grunbeld
. (
source
)
Community content is available under
CC-BY-SA
unless otherwise noted.