Characters
Featured Article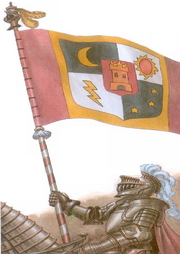 The Kingdom of Midland (ミッドランド王国, Middorando Ōkoku) is a monarchy under the influence of the Holy See. As its name implies, Midland is geographically central to the continent on which Berserk predominantly takes place. After its Hundred-Year War with the Tudor Empire, Midland enjoys a brief peace among its rival nations. Following the king's death and Kushan Empire's subsequent invasion of the kingdom, however, Midland begins diminishing in prominence. Midland regains preeminence following the Great Roar of the Astral World, after which Falconia surfaces atop the land where Wyndham once sat as its new capital, and as the sole safe haven in Fantasia for humanity; as such, Midland is thought to be one of the only domains in Fantasia to have retained some semblance of government, law, and order.
Featured Image
Community
On the Wiki

Editing

New to wikis? Read the FANDOM editing 101 tutorial and our Style Guide before editing or creating a page.
For viewers who want to contribute, making an account is as simple as going here and filling in the required fields. Then you'll be an editor of Berserk Wiki!
Contact one of our Administrators for help on the wiki.

Maintenance

If you want to hit the ground running, you can begin by expanding on and correcting mistakes within many articles in need of improvement.

Socialize

Visit our Forums to introduce yourself or see what the community is working on!

External Links

@berserk_project on Twitter

Affiliate Wikis

If you wish to affiliate with Berserk Wiki, please ask Besty17.
Recent Updates
January 22, 2021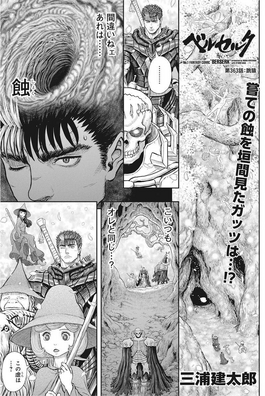 Episode 363 "Leaping Monkey" published!
Next release: Unknown
September 19, 2018

English version of the Berserk Official Guidebook released!
October 30, 2017

Dark Horse to release English version of Berserk: The Flame Dragon Knight, a novel covering the origins of legendary apostle Grunbeld.
June 23, 2017
Episode 24 "City of Humans" released!
Next release: N/A
Discord Chat
Did You Know...
... that Midland was named as such due to being the "land in the middle of nations"?
... that the Dragon Slayer's design was influenced by similar swords illustrated in Pygmalio and the Guin Saga spin-off The Snow Queen?
... that Berserk has been described as a shojo manga by Kentarou Miura?
General Disclaimer
BERSERK and all related art, logos, concepts, and other derivatives of Kentarou Miura's creative work included on Berserk Wiki are ™ and © of Kentarou Miura and/or Hakusensha. All Rights Reserved. The operation of this website is believed to fall under the United States "fair use" copyright laws. Berserk Wiki is purely an unofficial Berserk encyclopedia, and does not pretend to be official in any way whatsoever.
Community content is available under
CC-BY-SA
unless otherwise noted.