Characters
Featured Article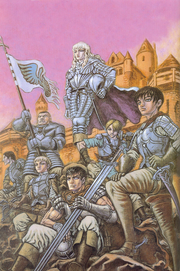 The Band of the Falcon[1] was a mercenary group founded by the White Falcon Griffith. They were instrumental in several battles during the Hundred-Year War, most prominently in retaking the Tudor-held fortress of Doldrey for Midland and ending the century-long conflict.[2] Subsequently, the band's commanders were granted nobility.[3]
However, after Guts departed from the band and Griffith slept with Princess Charlotte in a moment of weakness,[4] the mercenary leader was captured and tortured under the orders of the king of Midland, and the band members were rounded up to be dealt with by Midland's army and, once they were on the run, pursued afterward.[5]
Featured Image
Community
On the Wiki

Editing

New to wikis? Read the FANDOM editing 101 tutorial and our Style Guide before editing or creating a page.
For viewers who want to contribute, making an account is as simple as going here and filling in the required fields. Then you'll be an editor of Berserk Wiki!
Contact one of our Administrators for help on the wiki.

Maintenance

If you want to hit the ground running, you can begin by expanding on and correcting mistakes within many articles in need of improvement.

Socialize

Visit our Forums to introduce yourself or see what the community is working on!

External Links

@berserk_project on Twitter

Affiliate Wikis

If you wish to affiliate with Berserk Wiki, please ask Besty17.
Recent Updates
Discord Chat
Did You Know...
General Disclaimer
BERSERK and all related art, logos, concepts, and other derivatives of Kentarou Miura's creative work included on Berserk Wiki are ™ and © of Kentarou Miura and/or Hakusensha. All Rights Reserved. The operation of this website is believed to fall under the United States "fair use" copyright laws. Berserk Wiki is purely an unofficial Berserk encyclopedia, and does not pretend to be official in any way whatsoever.